Add:689,jidao street,the light industrial zone,jinhua zhejiang
TEL:0086-579-82262007
0086-579-82262299
FAX:0086-579-82261222
Contact Person:Mrs ying
Website:http://www.jysport.com
Email:admin@jysport.com
The gym "iron army"
Installation and maintenance
of utdoor fitness equipment
Conform to the development
of themanufacturers need to
change the sales model
The damaged equipment to
receive timely treatment
Product prices do not represe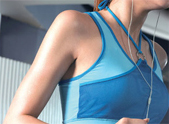 Spinning structural analysis of
(Hits:)
Origin
Author
Add Time2014-09-01
fontSize:
T
|
T
Spinning is similar to the basic and ordinary bicycle, including the handlebars, seat, pedal plates and wheels of several parts, body firmly linked as a whole. Different from ordinary bicycle, it can do a lot of structural adjustment, make people feel more comfortable ride. Prior to the car, we must first determine the height of the seat, usually the height of their standing on the ground, raised his thigh and with a high degree of surface water usually prevail, so that when riding, thigh and calf angle is not too small , thereby reducing the burden on the knee, avoid damage; then handlebar seating position determines the position of the front hand on the handlebars, elbows leaning on the most suitable for the position, the body should be compact, arms out in front do not feel like struggling. Handlebar height can lift according to the rider's body. Here are some specific structural analysis spinning.
Spinning the front: from architecture to handle and kettle, consider prolonged exercise at any time require replenishment needs kettle frame design. Fender: fender body located between the brake system, the role of this fender and ordinary bicycle is about the same, is to protect the flywheel from sweat and rust erosion. Flywheel: The main role of the flywheel is a counterweight, which is increasing the load movement in order to play a greater role in training intensity. Electronic Brake System: Spinning on many are equipped with electronic braking system, which also makes a lot of spinning movement to better control and grasp of rhythm when tired. Crank and pedal: This is also similar to the structure of an ordinary bicycle, play a driving role as a bridge, most of the action spinning through this reflected. Seat: Spinning seat height can be easily adjusted, which is to allow people to adapt to different height the same bike, it is very user-friendly design. Body fixed frame: This is an overall framework support structure Spinning, basically all of the spinning frame is fixed to build a metal, which is spinning can support the main reason people are overweight.
keyworks: